Do you remember being a kid and wanting to actually go to Sesame Street? It seemed like such a magical place, yet so real. It had to be out there somewhere! Unfortunately, no one that I knew actually knew how to get there other than to tune in to PBS (whenever the bunny ear TV antenna's were working or the wire hanger:). I always looked forward to learning something new or just practicing the skills that I'd already learned. As I got older, I just enjoyed watching the show. It was like going to visit old friends.
I decided to share some of those nostalgic learning experiences with my kiddos today, as well as with you!
First of all, the most memorable moments of the Sesame Street for me, was the opening theme song. I loved the classic version but hadn't seen the very first version before today. Fortunately for me it was on You Tube...You Tube Rocks!!!


Gotta love this!

I had many, many favorite songs and characters on Sesame Street but it would take all day to find and post them all, so I'm just going to post a few of my most favorite and memorable segments.
One of them is the number song from the animated pin ball machine.


One of these kids is doing his own thing....can you guess which one???
Do you know how things begin? Lets watch and learn!
Well it wouldn't be a Sesame Street post if I didn't include the Rubber Duckie song, so here it goes.
I hope this post brought back some warm and wonderful memories for you the same as it did for me. I enjoyed reliving all of the memories and making new ones with my kiddos. My youngest one, RJ, loved the number song and loved watching him move his body to the music of something I watched when I was little.
Well It's time to say goodbye...have a fabulous Wednesday!
Let's close with one last video, the ending segment of our beloved Sesame Street!
My Wednesday Walk Down Memory Lane. To see more please visit
The Goodwin Family Blog
, while you're there link up your own memory post...I'd love to read it!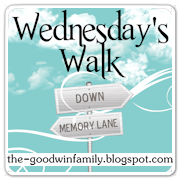 ~Blessings~
Claudea B.