Tot School with 1+1+1=1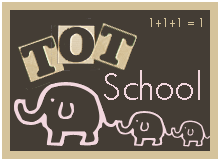 I'm so excited to have found this wonderful learning blog for RJ. I guess it's more so for me because there's a certain element of accountability to assist me in "purposeful" play with him...you know on those days that I'd rather be laz'n around poppin bon bons. There's all kinds of good stuff on the website. I haven't got to all of it yet but that is one of the factors that makes it an outstanding resource, it keeps you coming back for more. Another comforting aspect is that there are dozens of other moms linked up to the site so that you can go over and check out what they're doing with their tots as well. Awesome, awesome, awesome! Anyhoo, today will be the first day that we will link up (provided that I can get my pictures up...can't be linkin up without photos on the first day). I've basically just organized RJ's learning area a little better and did a lot of "purposeful observing" this past week but it's where we started so I'll just share that...after all, all good things begin with a little organization, RIGHT.
But first let me introduce RJ...here he is tasting a blue Mega Blok...looks yummy!
(sometimes my camera phone like to make me scream...)
P.s don't you just love babies in these little footed pajamas!
Here is one of the shelves that I finally got "semi" the way I want it. On the top shelf there is a wooden 1-5 number puzzle, a coin slot that I made with a Folgers coffee can, and a box of vintage ABC blocks. I think you can see the other two shelves ok from this photo.
Top shelf: wooden knobbed transportation puzzle, some wooden animal shapes in a tin container. The middle shelf has Mega Bloks and soft circus animals that make different sounds. The bottom shelf contains a V-Tech tow truck with interlinking cars, and a teaching turtle.
Here's a better view of both bookshelves....I hope.
(The very top of these shelves have stuff on them for older preschoolers.)
Here we have a knobbed Geranimals puzzle and a wooden clock on the top shelf. The other two shelves contain activity mats.
The bottom cubby to the left contains an old wine gift box that contains shapes and other cool things to discover. The tray above that is currently used for noisy toys such as rattles. The middle bottom cubby holds RJ's favorite ball and above that are his stacker toys. The bottom right cubby contains RJ's favorite soft noise toy, a little green turtle like thing that makes a soft rattling noise and different textures on each side of it. Above that cubbie is a tray that contains five balls that have different textures and makes different sounds as well.
This shot might be better...might not
Here he is actually attempting to stack the Mega Bloks...I was thoroughly impressed!
Well that's it for today, I have many learning stations set-up for him thru out the house but I'll get to those on some later posts, after all this is our first week...not to mention, I didn't feel like cleaning up the WHOLE house to get a few pics...hehehe.